Bridgestone Run Flat Technology
Every day, drivers expect more and more from their cars in terms of safety, comfort and efficiency. Bridgestone meets these needs head-on with our pioneering Run Flat (RFT) Technology.
Bridgestone Run Flat Tyres are increasingly fitted to the premium cars of today and tomorrow.
Safety for you and safety for other road users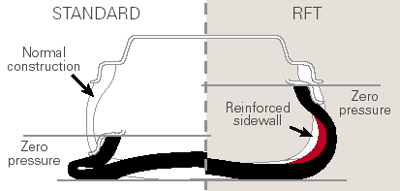 Bridgestone Run Flat tyres enable you to safely continue your journey even in the case of a sudden loss of air pressure. The Run Flat capability is immediately effective at the moment of pressure loss, keeping the vehicle under control and avoiding potentially fatal situations.
The end of dangerous roadside tyre changes
Bridgestone Run Flat is able to continue driving in comfort and safety for another 80km at a speed of 80km/hour. So you can reach your destination, a safe location or a Bridgestone dealer.
Increased efficiency and comfort
RFT removes the need to carry a spare tyre, reducing weight and offering the end user more storage space and the car manufacturer more design opportunities.
**Bridgestone Run Flat Tyres are only suitable for vehicles equipped with a tyre pressure monitoring system (TPMS).
Find extensive information about Run Flat Tyres on Bridgestone's dedicated website Here
Bridgestone has set up a pan-European service network, offering the highest possible standards of equipment and services to drivers equipped with RFT.
Bridgestone strongly recommend to only fit RFT on a vehicle that is originally equipped with run flat tyres (either standard or as option). Vehicles fitting Run Flat Tyres (standard or optional) must always be equipped with a tyre pressure warning system.
Bridgestone's latest conditions for the repair of run flat tyres (RFTs) can be obtained from Bridgestone or any Bridgestone certified RFT dealer.
If you are interested in Pan Auto's range of Run on Flat Tyres, please call 01582 764322 or Contact Us Online.
Pan Autos have been supplying Harpenden and the surrounding area for more than 25 years.

We offer great value and customer service for all your vehicle requirements.